Guests

6

Cabins

3

Model

Cat

Year Built

2021
Additional Rate Information
Additional Rate Information
Charter Rates Per Week
| Rate Period | Terms | 2 Guests | 3 Guests | 4 Guests | 5 Guests | 6 Guests |
| --- | --- | --- | --- | --- | --- | --- |
| Winter 2022 to 2023 | Inclusive | $19,500 | $20,000 | $20,500 | $21,000 | $21,500 |
| Summer 2023 | Inclusive | $19,500 | $20,000 | $20,500 | $21,000 | $21,500 |
| Winter 2023 to 2024 | Inclusive | $19,500 | $20,000 | $20,500 | $21,000 | $21,500 |
| Summer 2024 | Inclusive | $19,500 | $20,000 | $20,500 | $21,000 | $21,500 |
Additional Rate Information
MINIMUM NIGHTS: 6.
Sleep aboard the night before charter dates. Available for $1,200 per night. Includes snacks, welcome cocktails & continental breakfast. Dinner is to be taken ashore at client expense. EXCLUDES: Christmas and New Year's weeks.
HALF-BOARD OPTION: Includes 7 breakfasts, 4 lunches & 3 dinners, happy hour canapes, standard ships bar and snacks. Other meals ashore at client expense.
2@$19,200 | 3@$19,550 | 4@$19,900 | 5@$20,250 | 6@$20,600
LOCAL FARE OPTION: Includes 7 breakfasts, 5 lunches & 6 dinners, happy hour canapes, standard ships bar and snacks. Other meals ashore at client expense.
2@$19,350 | 3@$19,775 | 4@$20,200 | 5@$20,625 | 6@$21,050
CHRISTMAS: 7 night minimum, VIRGIN ISLANDS 1-6 pax $26,500
NEW YEARS: 7 night minimum, VIRGIN ISLANDS 1-6 pax $26,500
New Years must start no earlier than 12/27
Christmas must end no later than 12/26
Location Details
Summer Area: Caribbean Virgin Islands (US)
Winter Area: Caribbean Virgin Islands (US)
Capt. Derek Watkins
One of my favorite quotes of all time comes from JRR Tolkien's book, The Fellowship of the Rings, where Gandalf said to Frodo… "All we have to decide is what to do with the time that is given us."
Born and raised 20 miles north of Boston in Reading, Massachusetts, I loved the outdoors and playing any and all sports. My summers were spent in the White Mountains of New Hampshire until sports took over my life, along with my family's. After graduating from Reading Memorial High School, I decided to pursue my love for athletics and attended East Stroudsburg University in the Pocono Mountains of Pennsylvania to play college football.
A few years later, while living in Wells, Maine, I decided to follow in my grandfather's footsteps and become a bartender. That decision changed the course of my life forever. For the next 25ish years, I used the bartending profession to fuel my passion for traveling and adventure. I also learned as many trades as I could: carpenter, ski and snowboard tech, Alaskan fisherman, paint salesman, tour manager, and owner and operator of my own and muscular therapy business. I called Boston, LA, Sitka Alaska, Aspen Colorado, Squaw Valley/North Lake Tahoe, New York City, and St John, USVI my home. Of course, my life was not all work and no play. I found time to fall in love with the great outdoors all over again and became an avid backpacker, snowboarder, mountain biker, and traveler. I visited India, Nepal, Central America, Eastern and Western Europe, along with many states in the USA.
In 2003, friends showed me photos of Maho Bay on St John in the USVI. I had never heard of St John, or USVI in fact. However, the beauty I saw in those photos never left my thoughts. I almost visited several times over the years, but it never worked out. Then, one day in NYC, I decided it was time to make a change. So, I bought a one-way ticket to St John. On the first day after I arrived on St John, I found a bartending job. On my third day, I was invited to go sailing for the first time ever. That day was literally life changing. From the second I stepped on to the sailboat I knew I wanted to learn how to sail and become a captain. Now, I hold a USCG 100 Ton Masters License with Sailing Endorsements, CPR and First Aid certificates, as well as my STCW-95. Going on my seventh year here in the USVI, I am ready to accommodate your itinerary in a safe and knowledgeable way. My goal is to make sure your trip is a beautiful, lifelong memory; because…this is what you've decided to do with your time. Welcome Aboard!
| | | | | |
| --- | --- | --- | --- | --- |
| Captain | Derek Watkins | US | 0 | English |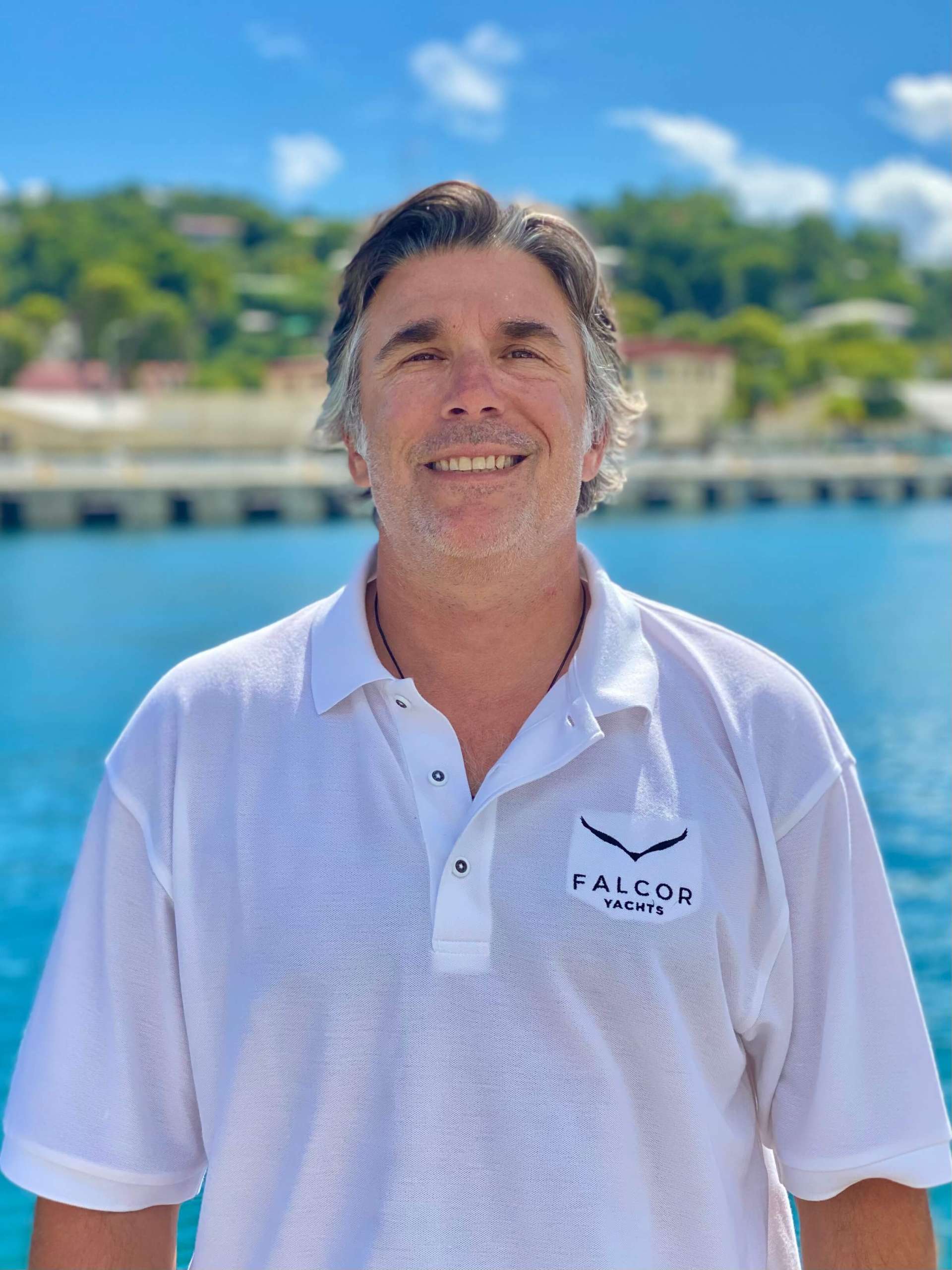 Captain
Derek Watkins
Leisure
Dive Info
Yacht offer rendezvous diving
Other Specs
Turn Around
48 hrs preferred, Inquire for
Green Other
Virgin Elements local organic body wash, shampoo, and conditioner
Scuba Onboard
Yacht offers Rendezvous Diving only
Each cabin is generously equipped for optimal comfort: Three inches of ultra-plush cooling memory foam mattress toppers; Infused with temperature-regulating gel beads that capture and dissipate heat to help prevent overheating.
Hotel Collection Plush Bamboo – Cooling Hypoallergenic Sleeping Pillows
All Cabins are En-Suite with Showers and Heads.
A/C in every Cabin
–
Buttermilk pancakes, bacon, eggs your way.
–
Topped with a lemon garlic cream sauce
–
Paired with breakfast potatoes
Chicken and Buttermilk waffles
–
Protein and Eggs your way
–
Proteins: turkey or beef sausages, turkey, or pork bacon
–
Veggies: peppers, onions, spinach, mushrooms
–
Cheese: provolone, cheddar, swiss, pepper jack
Grilled jumbo shrimp/chicken/salmon Cesar Salad
–
Topped with garlic aioli, arugula, smoked turkey bacon, and a tomato on a brioche bun
Fried lobster/shrimp Po Boy
–
Lettuce, tomatoes, and purple onion on a French roll topped with a Cajun remoulade
–
Grilled chicken, spinach, pepper jack cheese
–
Lemon pepper, BBQ wings, buffalo, garlic parmesan, 
h
ennesy glaze with hand cut
Classic Cheeseburger w/ Fries
–
Handcrafted, lettuce, tomato, onions add on bacon, mushrooms, sautéed onions
Grilled Stuffed Turkey Burger
–
Spinach, mozzarella cheese, hand cut fries
–
Brussel sprouts, broccoli, onions, and peppers on top of seasoned yellow rice sauce: lime
–
Butter herb rice, sauteed Brussel sprouts- garlic cream sauce
–
Rosemary garlic butter, garlic mashed potatoes, steamed broccoli
Grilled Jerk/Regular Lamb Chops
–
Smoked gouda mac and cheese, grilled garlic asparagus
Captain Morgan's BBQ Baked Chicken
–
Collard greens/cabbage with smoked turkey necks, butter herb rice
–
White rice, and fried cabbage
Grilled Jumbo Shrimp Pasta
–
Parmesan garlic cream sauce add on broccoli, or spinach
–
Jumbo shrimp/lobster, sautéed broccoli, parmesan garlic mashed
Deep Fried Salmon or Shrimp
–
Mac and cheese, sautéed spinach
–
Pan seared, broccoli, mashed potatoes- remoulade sauce
–
Teriyaki sauce, over white rice
–
Cabbage slaw, lime crema sauce
–
Wild rice, four mix cheese
–
Jerk, buffalo, lemon pepper, henny
–
Crab and parmesan cheese
–
Turkey, spinach, smoked gouda
–
Lemon garlic parmesan sauce
–
Steak, chicken, shrimp- cilantro, radish green salsa
Chicken Tenders and Fries
Chocolate Chip Cookie Sandwich with vanilla ice cream
Chocolate Brownie/Ice Cream
Ed Hamilton & Co. endeavors to provide the most up-to-date yacht information, availability and rate details, however, all information published on this site is subject to change without notice. Please contact us for the most current yacht information, availability and rate details.