Guests

6

Cabins

3

Model

Cat

Year Built

2009
Additional Rate Information
Additional Rate Information
Charter Rates Per Week
| Rate Period | Terms | 2 Guests | 3 Guests | 4 Guests | 5 Guests | 6 Guests |
| --- | --- | --- | --- | --- | --- | --- |
| Summer 2023 | Inclusive | $15,600 | $16,200 | $16,800 | $17,400 | $18,000 |
| Winter 2023 to 2024 | Inclusive | $15,600 | $16,200 | $16,800 | $17,400 | $18,000 |
Additional Rate Information
CREW GRATUITY: The prices do not include a tip for your crew.
It's customary to tip your crew at the end of the charter, the norm for good service is 15%-20% of the charter fee.
MINIMUM NIGHTS: 4
For 6 night charters, divide weekly rate by 7 nights X 6 nights. For 5 nights or less, divide weekly rate by 6 nights X number of nights.
USVI or BVI pickup at no added cost.
Virgin Islands to SXM – $750 each way
Virgin Islands to Antigua – $1,000 each way
St. Vincent/Union Island to St. Lucia – $250 each way
Grenada to St. Vincent/Union Island – $500 each way
Grenada to St. Lucia – $750 each way
Grenada to Martinique – $1,000 each way
Please inquire for delivery fees to other islands.
HALF-BOARD: Includes: 7 breakfasts, 4 lunches & 3 dinners. Requires 3 lunches & 4 dinners ashore at client expense.
2/$ 15,300 3/$15,750 4/$ 16,200 5/$16,650 6/$17,100
LOCAL FARE: Includes: 7 breakfasts, 5 lunches & 6 dinners. Requires 2 lunches & 1 dinner ashore at client expense.
2/$ 15,450, 3/$15,975, 4/$ 16,500, 5/$17,025, 6/$17,550
CHRISTMAS/NEW YEARS:
7 night minimum applies.
Christmas: 1-6 guests $22,250 full-board, must end by December 26th
New Years: 1-6 guests $23,250 full-board, may not start prior to December 27th
Location Details
Summer Area:  Caribbean Virgin Islands (BVI)
Winter Area:  Caribbean Virgin Islands (BVI)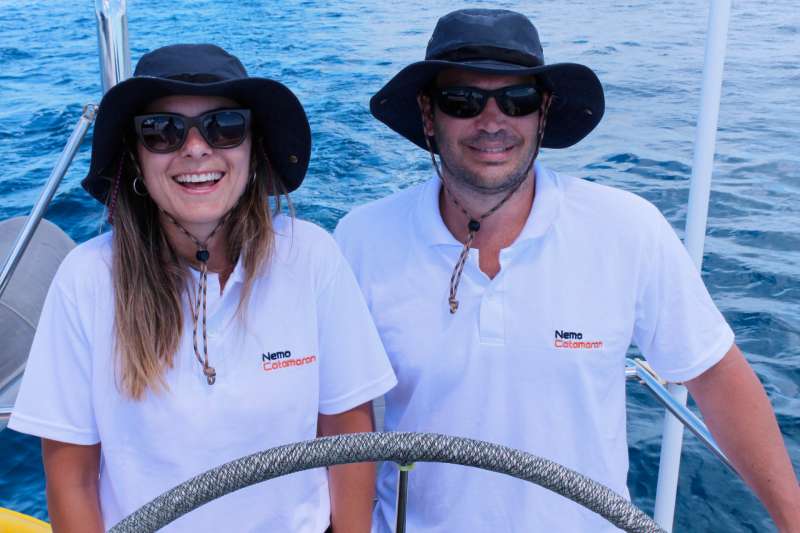 Santi – June 8, 1985 (35) – Buenos Aires, Argentina
Santi grew up in San Isidro (Buenos Aires), where he lived with his parents and seven brothers until he was 19 years old. All men! With a large family, there was always much organization.
At the age of 20, he traveled to New Zealand to work and for the travel experience. Then he went to live in Spain for one year, working in a hostel reservation center for Europe.
From a very young age (5 years old), he started sailing an Optimist, and then as a cadet until 17 years old. He plays different sports, but his hobby is making electric LEGO trains.
His family always had a boat (sailboat and (powerboat) cruise ship), so he was always in contact with the water, his great passion.
Santi went to "Marín School". Moreover, he is self-taught in all matters of technology and processes. He has dedicated many years to these tasks.
His friends define him as an introverted, executive, and fun person.
"Only one thing makes a dream impossible: The fear of failure."
Luli – January 5, 1992 (28) – Buenos Aires, Argentina
For her first 28 years, Luli lived with her parents and three sisters in San Isidro, a very beautiful, quiet city with green spaces and a coastal area.
As a child, she went to the club almost every weekend and played with her friends. That is where her love for boats began. The club is near the river, and she could see everyone hoisting their sails.
Many friends had boats so many times we went sailing. In 2017 she bought her first boat with Santiago that they enjoyed every weekend and on day-offs.
Luli studied at "La Unidad School", graduating as a Passenger Cabin Crew. For eight years, she worked in a travel agency arranging itineraries and sales of tourist services.
Her hobby is making crafts such as knitting in two rows or the macramé technique. Moreover, her favorite sport is riding a bike.
Luli's friends define her as fun, Natural, and very perfectionist.
"Kiss slowly, Speak clearly, Fail a little, Dance a lot, Love hard and Laugh really."
Our Service
We want our guests to feel at home with quality service. We will work to give them the space to enjoy an unforgettable experience. Furthermore, we will always be at their disposal for the new adventure of each day. We love what we do: preparing each trip, each itinerary, each navigation, and each meal so that they will always be comfortable and relaxed.
"On a good vacation, you have nothing to do, and you have all day to do it."
| | | | | |
| --- | --- | --- | --- | --- |
| Captain | Santiago Aranguren | Argentinian | 1985 | English, Spanish |
| Crew | Lucia Valentini | Argentinian | | |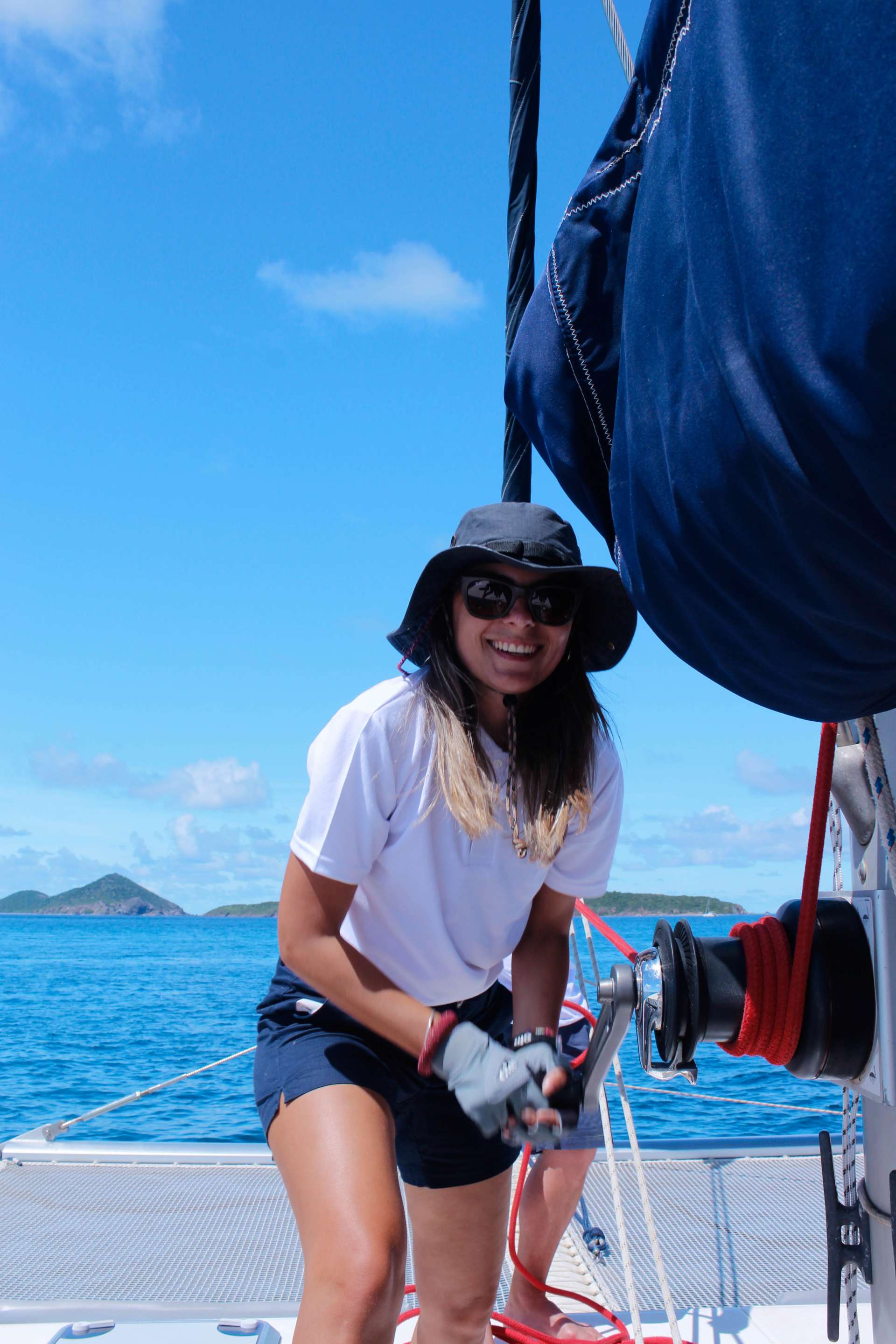 Crew & Chef
Luli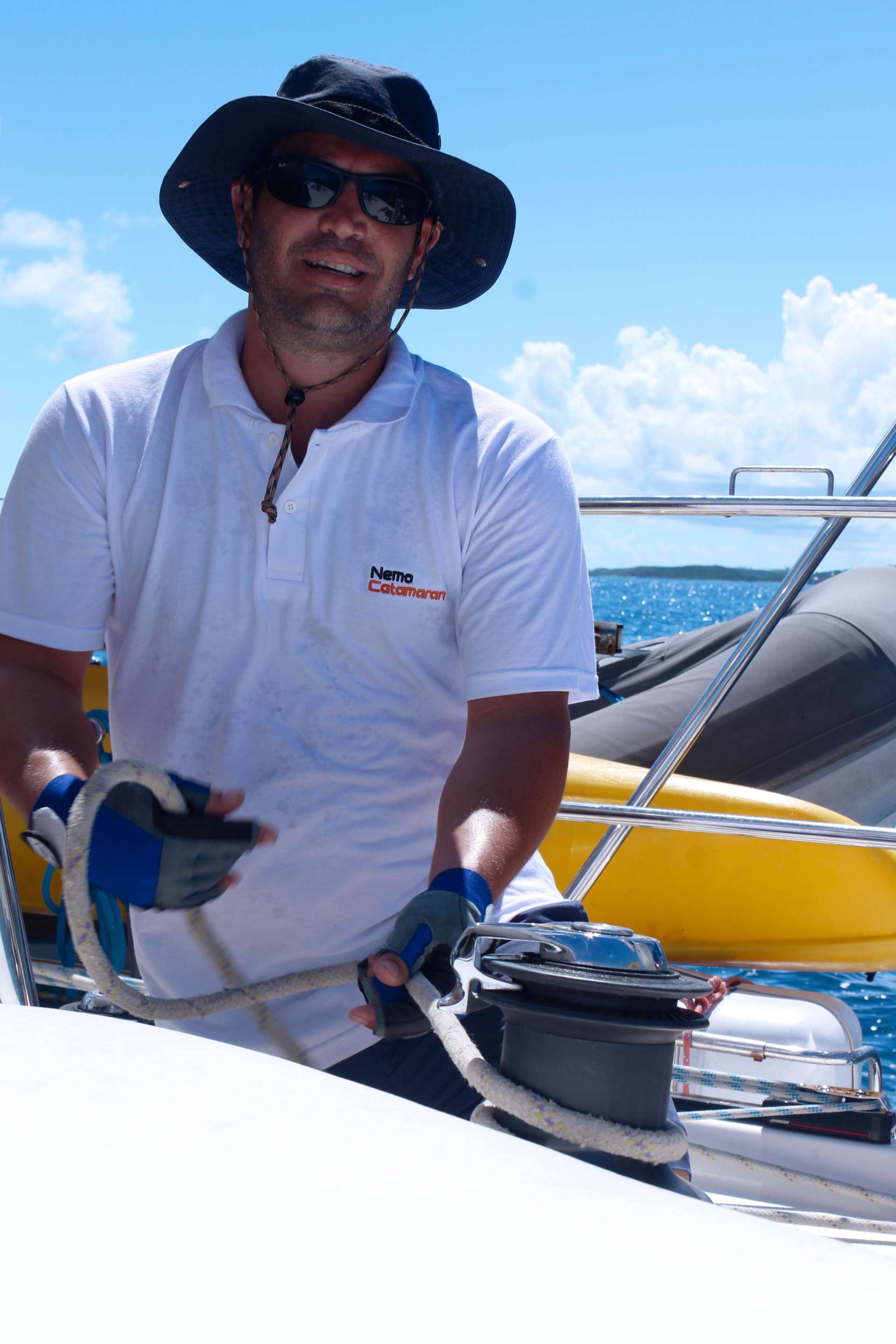 Capitan
Santiago
General
Min Child Age
+/-10 (swimmers strongly prefe
Leisure
Dinghy
AB Ventus 12 ft (2021)
Other Specs
Pref Pickup
Village Cay Marina BVI
Inverter
12V, 110V & 220V
Water Capacity
21.12 gallons
Green Other
ECO FRIENDLY (read more in main text) and includes Photovoltaic solar panels, wind generator, and a 7 filter drinking water system with mineral fusion, flat or sparkling.ECO INITIATIVES:1. Nemo offers personalized containers for drinking water to their clients so they can either use the desalinated boat water that has been through 7 filters, or large water bottle containers for refill. To help save the planet no small plastic bottles are bought.2. NEMO does not buy disposable plastic plates or cups.3. There's an eco dishwasher on board that only uses 3 gallons of water each cleaning cycle.4. Clients are encouraged to open their hatches at night to avoid using A/C.5. NEMO uses biodegradable cleaning products and cleaning cloths for cleaning boat interior.6. Natural bio-degradable cosmetic products on board (includes body wash and shampoo).7.) New cockpit cushions 2014 made from nontoxic materials and dyes.This all highlights their focus on CYBA's "Go Green to Save the Blue"
Scuba Onboard
Yacht offers Rendezvous Diving only
Other Toys
Mavic Air 2 drone
Tube is towing wing (Sting Ray)
A "Lilly pad" floating mat, 12x6ft
Huge Sun shade covers foredeck and trampoline area
Note the Kayak is really one man, but very large and easily accommodates two people.
3 Queen CABINS ALL WITH EN-SUITE FACILITIES.
4th queen cabin is crew use only.
BREAKFAST
A fresh fruit platter, Fruit Juice, Tea and Coffee are served with breakfast every day.
Benedict eggis with Hollandese sauce and crispy bacon on toasted English muffins

Pancackes served with blueberries maple syrup and bacon 

Avocado toast with poached egg

Yoghurt bowl served with fruit and granola

Ciannamon french toast with sliced banana

Scrambled eggs served on a toast with chives and bacon

Acai bowl with berries, banana, coconut and nuts
 LUNCH
Burrata salad with arugula, fresh basil and walnuts

Grilled chicken served with cherry tomato, black beans, corn, cilantro salad and avocado

Caribbean tacos with shrimps, mango sauce, avocado, red onion, cherry and cilantro

Chicken cesar salad with parmesan and croutons

Cod with tabule cous cous , cilantro, lime, tumeric, cumin and tomato

Smoked salmon bagl sesame seed with cream cheese arugula and avocado

Causa Limeña with tuna and avocado
APPETIZERS
Melon brochettes wrapped in prosciutto

Carrot soup

Charcuterie and cheese boards

Garlic clams

Capresse with fresh basil and balsamic glaze

Nachos with cheddar cheese

Argentinean style 4 cheese empanadas

 
DINNERS
Spagetthi with champignon sauce

Mahi mahi grilled pumpkin curry and coconut milk with basmati rice

Pork tenderloin served with orange sauce, mashed potato and fresh island salad

Seafood with yellow rice and and saffron

Lassagna with bolognesa sauce, ricotta, and spinach

Chicken and vegetables fajitas

Filet Mignon served with mini-potatoes, asparagus, cherry tomato and wine sauce
DESSERTS
Strawberrie mousse

Suspiro limeño with italian meringue

Creme Brulle

Pavlova served with Nutella or Dulce de Leche, whipped cream and berries

Homemade flan with caramel and whipped cream

Chocolate mousse

Lemon cake
Ed Hamilton & Co. endeavors to provide the most up-to-date yacht information, availability and rate details, however, all information published on this site is subject to change without notice. Please contact us for the most current yacht information, availability and rate details.