Guests

6

Cabins

3

Model

Cat

Year Built

2021
Additional Rate Information
Additional Rate Information
Charter Rates Per Week
| Rate Period | Terms | 2 Guests | 3 Guests | 4 Guests | 5 Guests | 6 Guests |
| --- | --- | --- | --- | --- | --- | --- |
| Winter 2022 to 2023 | Inclusive | $29,000 | $30,000 | $31,000 | $32,000 | $33,000 |
| Summer 2023 | Inclusive | $29,000 | $30,000 | $31,000 | $32,000 | $33,000 |
| Winter 2023 to 2024 | Inclusive | $29,000 | $30,000 | $31,000 | $32,000 | $33,000 |
| Summer 2024 | Inclusive | $29,000 | $30,000 | $31,000 | $32,000 | $33,000 |
Additional Rate Information
MINIMUM NIGHTS: 6
SLEEP ABOARD Sleep aboard the night before charter dates. Available for $1,200. Includes snacks, welcome cocktails & continental breakfast. Dinner is to be taken ashore at client expense.
EXCLUDES: Christmas and New Year's weeks.
HALF-BOARD OPTION:
Includes 7 breakfasts, 4 lunches & 3 dinners, happy hour canapes, standard ships bar and snacks. Other meals ashore at client expense.
2@$28,700 | 3@$29,550 | 4@$30,400 | 5@$31,250 | 6@$32,100
LOCAL FARE OPTION: Includes 7 breakfasts, 5 lunches & 6 dinners, happy hour canapes, standard ships bar and snacks. Other meals ashore at client expense.
2@$28,850 | 3@$29,775 | 4@$30,700 | 5@$31,625 | 6@$32,550
CHRISTMAS/NEW YEARS: 7 night minimum, VIRGIN ISLANDS
CHRISTMAS: 1-6 pax $38,000
NEW YEARS: 1-6 pax $39,000
New Year's must start no earlier than 12/27
Christmas must end no later than 12/26
Location Details
Summer Area: Caribbean Virgin Islands (US)
Winter Area: Caribbean Virgin Islands (US)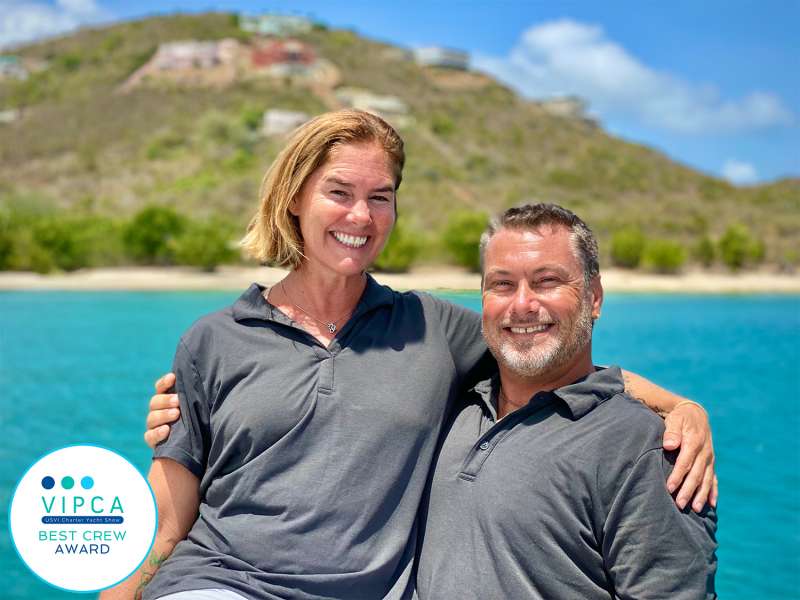 Capt. Ryan Adelmann
Ryan was introduced to sailing at the young age of 8. Raised in Minnesota, he learned the finer points of sailing on the numerous lakes and rivers, including the Great Lakes. By his late adolescent years, he had sailed the Florida Keys, Bahamian Islands and had spent many months off the N.E. coast, fine tuning his passion for the sea. Though life guided him through many ventures including a prosperous run in semiconductor manufacturing and real estate investing; the "Pirate" in Ryan hailed strong!
 

He found himself engulfed in the crystal blue waters of the Caribbean and the USVI/BVI waters in 2007. He honed his sailing skills by delivering yachts to/from the Virgin Islands to the States. He yearned to take on new waters and sailed further south to St. Lucia, St. Vincent, the Grenadines and Grenada, but Ryan has always found his home to be in these Lesser Antilles waters. His love of BVI and USVI shows as his vast knowledge and passion flow from him as you are enchantingly guided through the blissful calm waters. 


Holding a 100GT Master USCG Mariner's Credential along with STCW (International Standard of Training, Certification and Watchkeeping for seafarers), Auxiliary Sail endorsement, BVI Boatmaster endorsement, he is also safety trained and certified in CPR, First Aid, AED and Child CPR. Ryan's numerous land-based safety credentials have translated easily as he learned to "breathe" underwater as a PADI SCUBA certified diver.


Ryan's quick wit, plethora of bad jokes and charm have earned him a reputation second to NONE. His
 famous signature quote, as you'll happily fall influence to, "Buy the ticket, take the ride!" will follow you
 home to your own next adventures.

Chef Stephanie Simpson
Stephanie comes from Memphis, Tennessee – As with all mermaids, her timeline is mysterious. 
 As a young woman, Stephanie found herself being pulled to something-somewhere. As an only child she laid her own tracks and set her own sails. 
 Luckily for us, Stephanie chose a path through the warm waters of the Caribbean. She set her compass early on for the slow paced, simple life of island living and found her 'forever harbor' in St. Thomas in 1998. 
 
Her time on island has laid many entrepreneurial avenues such as opening an upscale boutique, bar/restaurant & Good-Time Guru. Throughout her adventures, she discovered her passion for the tranquil blue waters surrounding the Virgin Islands and beyond. 
 

Starting from the bottom and moving up, Stephanie acted a muse to captains of large capacity day boats, as well as, crew for mega yachts owned by astute, nameless persons of fame and fortune. Her life on boats offered her a way to express herself in the galley and as she works to ensure you have a memorable and fantastic vacation. 
 

With her sweet southern charm, Stephanie strives to give you an experience to never be forgotten. Her passion for pleasing is apparent once board, whether she is "mermaiding" her way through the waters to show you the beautiful aquatic life or when you set at her table and she presents your specially considered meals, she shines with enthusiasm and joy. Humble as she may be, Stephanie puts together simple meals in extraordinary fashion. 
 

Stephanie and Captain Ryan have found a partnership aboard that sets them worlds apart from others, working in perfect harmony as Captain and Crew. They are also loving partners in life, working and living their dream. 
Stephanie is certified in STCW; Personal Safety, Survival, Social Responsibilities and CPR. She holds her Advanced Open Water SCUBA certification. In her downtime loves to hike the many trails of the Virgin Islands, beach comb for unique shells, and simply relax in her island home, swaying in the breeze in her hammock, reading or just enjoying mother nature at her finest.
| | | | | |
| --- | --- | --- | --- | --- |
| Captain | Ryan Adelmann | US | 0 | |
| Crew | Stephanie Simpson | US | | |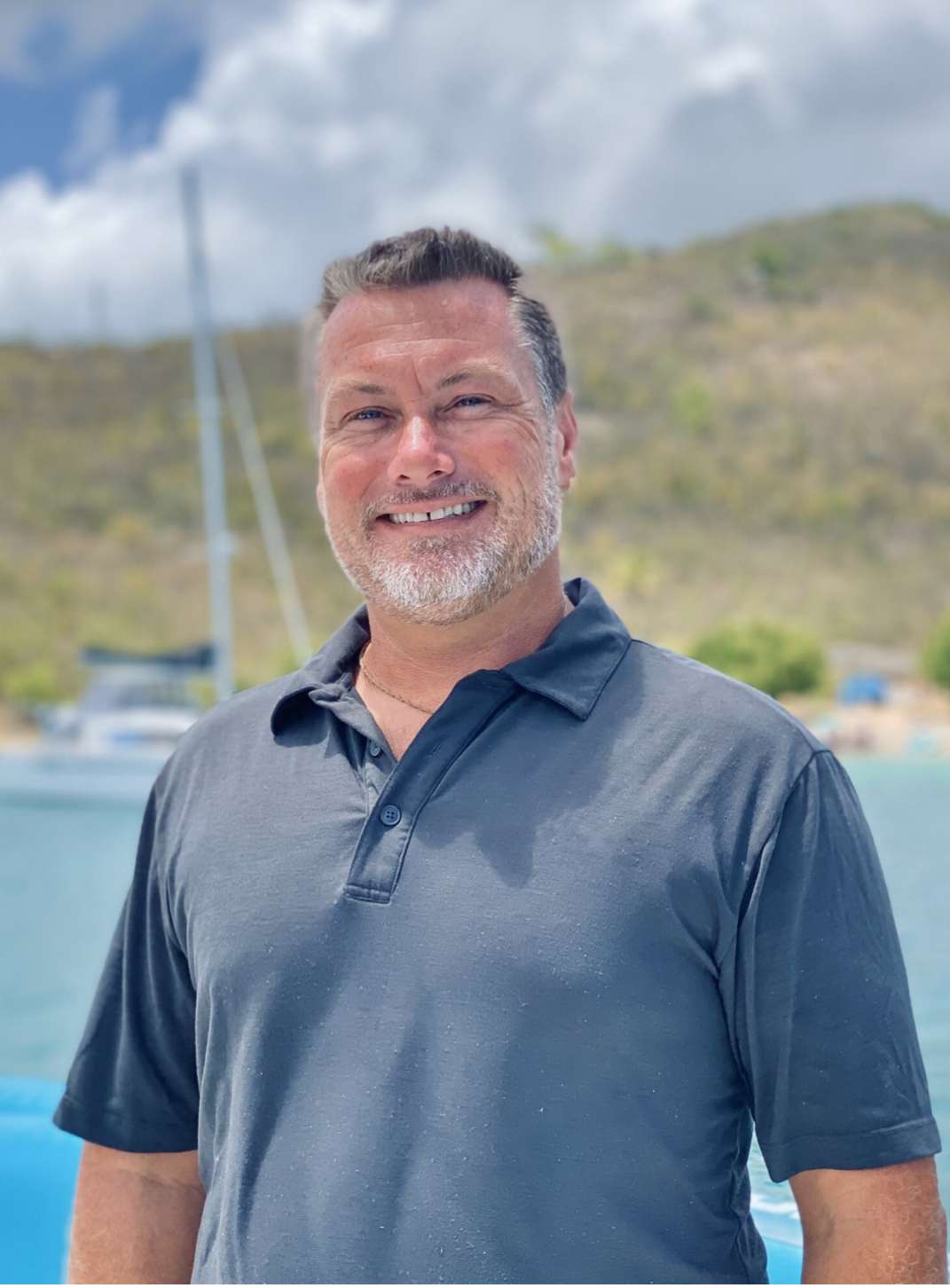 Captain
Ryan Adelmann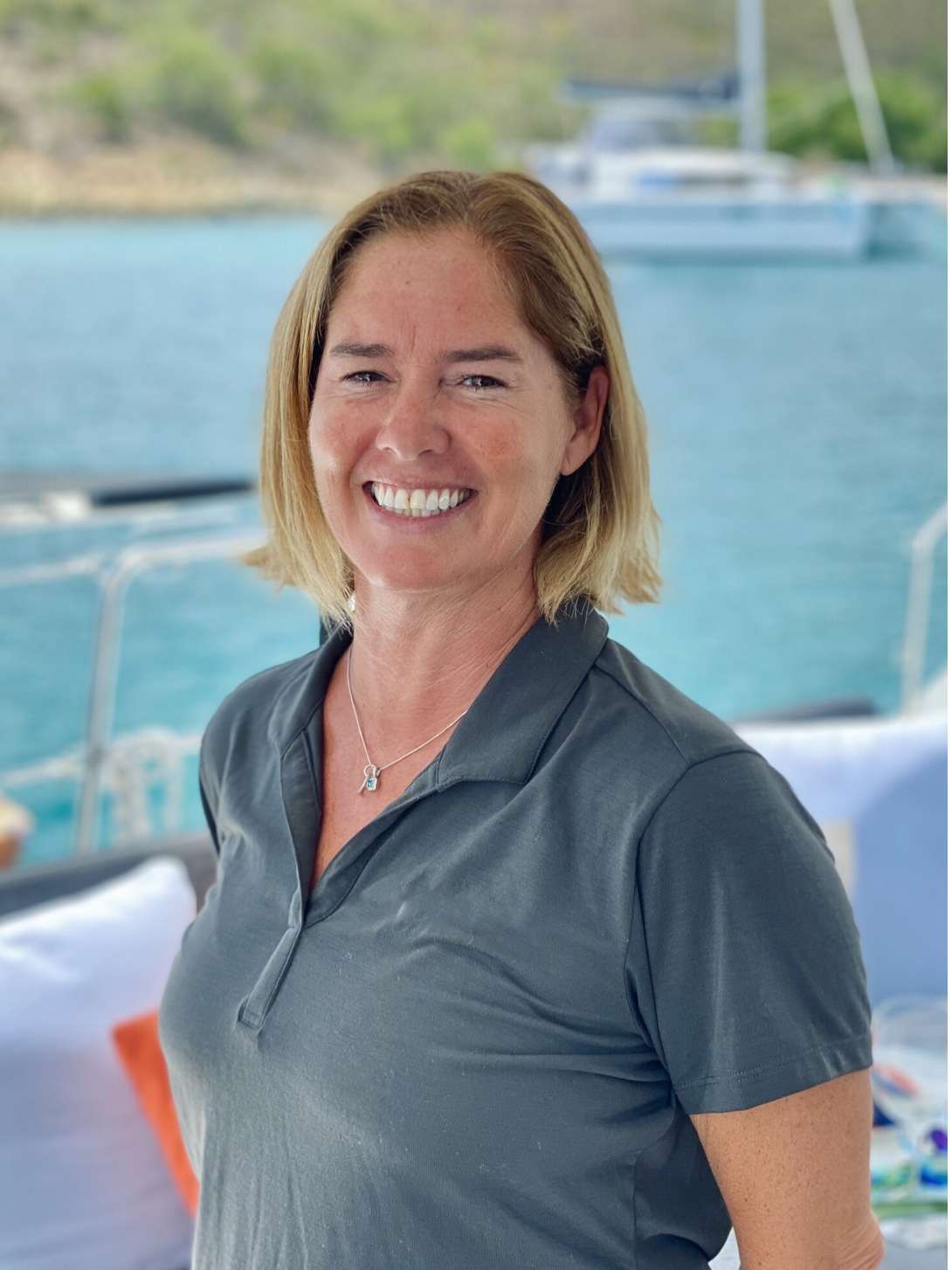 Chef / First Mate
Stephanie Simpson
Other Specs
Turn Around
48 hrs preferred, Inquire for
Engines
Yanmar 80 HP x 2Cummins 12 KWRaymarine Electronics
Fish Gear Type
2 Trolling 2 Spinning
Scuba Onboard
Yacht offers Rendezvous Diving only
Other Entertain
Eisenglass weather protection
DAY BREAK
*All served with fresh fruit and your choice of ham, bacon, or sausage
French Toast Bake with blueberry compote & Caribbean rum syrup
Veggie Scramble variety of veggies with fresh baked croissant
Parfait with local honey, granola, berries, and toasted bagel
Grilled Breakfast Burrito egg, cheese, and herb potatoes
Rapscallion "Bendict" ham, spinach, cheese frittata on english muffin with Hollandaise
Belgian Waffle topped with vanilla whipped cream and served with traditional breakfast
MIDDAY
*Majority of spices & produce are sourced locally
Chicken Salad stuffed with sprouts inside organic pita with a side of chilled broccoli salad
Crab Cake Ceasar Salad with garlic croutons and shaved parmesan
Cilantro-Lime Shrimp Tacos on flour or corn tortillas with boat made trio of salsas and chips
Roasted Turkey Wrap with crisp vegetables and savory greek pasta
Caribbean Chicken Cobb jerk chicken, mangoes, bleu cheese, & sunflower seeds with house made raspberry vinaigrette
Black Forest Ham with brie and fig jam on brioche, side of local cucumber and avocado salad
HORS D'OEUVRES
Mediterranean Style Hummus served with pita points (with a surprise twist)
Roasted Garlic & Avocado spread on toasted crostini with balsamic reduction
Crudite' Platter with fresh herb dipping sauce
Baked Brie topped with sliced pears and local honey drizzle
Charcuterie Board
Smoked Tuna Dip with brown rice crackers and crudite
MAIN
*All dinners served with an appetizer and homemade dessert
Grilled Ahi Tuna with fresh pineapple salsa, toasted coconut rice, and grilled vegetable medley
Filet or Ribeye with sweet potato mash, roasted brussels, and caramelized onions/mushrooms
Chicken Coconut Curry served over Thai Rice Noodle **Local Favorite
Grilled Pork Tenderloin with apple tarragon drizzle, tri-color baby potatoes, and wilted spinach
West Indian Baked Mahi Mahi with black beans, white cheddar polenta and a tomato roasted pepper compote **Local Favorite
Seafood Pasta baked scallops, sauté shrimp and crab with parmesan beurre blanc
DESSERT
Keylime Pie with fresh whipped cream and lime wheels
Traditional NY Cheesecake with graham cracker crust and fresh berries
Grilled Pineapple with coconut whipped cream
CoCo Cupcakes infused with raspberry topped with a mint icing
Local Pineapple Rum Cake
Tri-Berry Trifle
SHIP'S BAR
Vodka: Tito's
Rum: Cruzan (3-4 Flavors, a Dark, and a Light)
Bourbon: Bulleit
Gin: Bombay Sapphire
Tequila: Milagro
Champagne: La Marca Prosecco
Red/White Wine
($12-$15 bottles typically): Josh, 19 Crimes, Apothic, Matua, Dark Horse, Oyster Bay
Cordials: Grand Marnier, Espresso Vodka, Amaretto. Frangelica
Beers: ST. John Brewer's, Leatherback Brewery, Corona
Ed Hamilton & Co. endeavors to provide the most up-to-date yacht information, availability and rate details, however, all information published on this site is subject to change without notice. Please contact us for the most current yacht information, availability and rate details.