Guests

8

Cabins

4

Model

Cat

Year Built

2008
Additional Rate Information
Additional Rate Information
Charter Rates Per Week
| Rate Period | Terms | 2 Guests | 3 Guests | 4 Guests | 5 Guests | 6 Guests | 7 Guests | 8 Guests | 9 Guests | 10 Guests | 11 Guests | 12 Guests |
| --- | --- | --- | --- | --- | --- | --- | --- | --- | --- | --- | --- | --- |
| Summer 2019 | Plus Expenses | €39,000 | €0 | €39,000 | €0 | €42,000 | €0 | €45,000 | €0 | €0 | €0 | €0 |
Additional Rate Information
Winter & Spring 2021, Caribbean, based in St. Maarten
4 pax: $46,000
6 pax: $47,000
8 pax: $50,000
Plus all expenses, 25% APA:
Summer 2021, Mediterranean:
4 pax: €46,000
6 pax: €47,000
8 pax: €50,000
Plus all expenses + VAT (25% APA)
Holiday 2021-2022 weekly rate; plus all expenses, 30% APA:
$57,500
Rates are subject to change without notice. Please verify rates.
Location Details
Summer Area: Turkey, Croatia
Location Details: ORION 90 is available in the Caribbean Winter & Spring 2021.
West Mediterranean for Summer 2021: CROATIA & TURKEY ONLY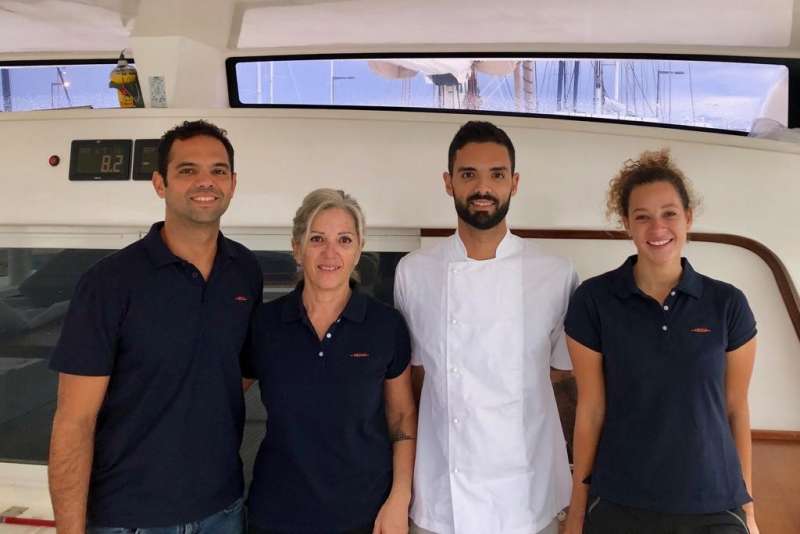 CAPTAIN OF ORION:
Marcelo Curci F. Vicente.
Marcelo was introduced to sailing at the age of 8 in his native country of Brazil. He began with the Opti and quickly transitioned into International 420s. Marcelo went on to win several races, including the Brazilian Championship in 2001. At the age of 16, he joined his family on board a Bruce Farr 38′ and spent the next three years cruising along Central and South America, well as the Caribbean. Marcelo began his professional career in 2005 as a deckhand aboard a 100′ motor yacht. At the age of 22, Marcelo started as captain on board a 75′ catamaran. Throughout his career, Marcelo has sailed over 70,000 nautical miles. He is highly skilled in cruising navigation, races, and charter. With over 14 years in the industry and with 7 Atlantic crossings,, Marcelo has extensive knowledge in the cruising areas of the Mediterranean, Caribbean, and South Pacific. Marcelo's extensive knowledge combined with a calm and positive attitude make him the ideal captain for your charter aboard ORION!
Marcelo holds a Master of Yachts Ocean Unlimited Commercially endorsed and will be finishing his Master 500gt commercial May 2020.
Dive master DSD leader, emergency reponder EFR (adult and child infant). Marcelo is fluent in Portuguese and also speaks English, Spanish, Italian and French. Dual citizenship, Brazil/Italy.
Relief Captain:
Marcelo Ferreira Vicente, 57 (father of Marcelo Curci F. Vicente) is the relief captain of ORION. Having logged nearly 100,000 miles as an offshore skipper and engineer delivering multiple high-end sailing catamarans and large power yachts, he's well suited for his role on the 90-foot Catana. His professional and academic credits include a 200-ton unlimited yacht master's license, a university degree in physics, and technical school credits in electronics from institutions in his native Brazil. Areas of interest in yacht systems include rigging, engineering, plumbing, and electrical. He's also a sailboat racer.A legal resident of Italy, Marcelo speaks Portuguese, Spanish, and English. In his wake are miles spent aboard in the South Pacific; off North and South America, including the coast of Brazil; the Caribbean islands, and the Mediterranean. In his spare time he enjoys surfing, windsurfing, and standup paddle boarding.
CHEF:
Mateus Curci Ferreira Vicente, is Brazilian / Italian and brother of ORION'S skipper Marcelo Vicente. Mateus is an exceptionally well-trained and experienced chef for his 28 years. He is a graduate of Le Cordon Bleu Paris & London, has an advanced certificate in Artisanal Bread & Viennoiserie from the San Francisco Baking Institute, a Restaurant Management Certificate from Senac Sao Paulo, Culinary Arts Certificant from San Fernan Castle Foundation in Spain, and an Advanced Certificate in Wine & Spirits from the WSET International – the Wine & Spirit Education Trust in London.
Mateus has worked along-side world class chefs in Europe and Brazil Michelin-rated restaurants, as well as at private estates, on board custom-built sailboats and some of the world's most elite super yachts – both private and charter. His experience includes service as head chef, special project manager, and menu planner – adding to his culinary organizational & creative skillset. Mateus truly delights in sharing his talents by preparing delicious and artfully presented meals for guests on board ORION.
CHIEF STEWARDESS:
Maura Curci Ferreira Vicente is the chief stewardess aboard Orion. As an experienced liveaboard sailor for over a year, she's kept ORION in immaculate condition while crossing oceans and bays. Her lengthy bluewater resume includes service aboard luxury power and sailing yachts. Her deliveries have taken her from Brazil to the South Pacific and the Mediterranean.
DECK STEWARDESS:
Sanne Klippel, the second stew on Orion was born and raised in Holland. She has travelled the world for the last 10 years, working with marine life, learning languages and cultures and growing as an individual. She has lived in Spain, Hungary, Australia, South Africa and the USA and traveled many more places as a volunteer or as traveler.
Over time being on a boat has become her second nature and she still learns every day. In the year 2020 she sailed over 7000 nautical miles. During all these amazing adventures, she tries to develop herself as a skillful seafarer and is happy to be on the water every day – sailing, surfing, swimming or simply enjoying the ripples of the water.
With years and years of hospitality experience in her back-pocket and a great love for our oceans and it's life, it is certain she just started this ocean story and hopes for years of yet unchartered waterways to explore!
When you are her guest, she strives to make sure you will have the best experience! Get ready to come aboard and live an unforgettable experience.
| | | | | |
| --- | --- | --- | --- | --- |
| Captain | Marcelo Curci F. Vicente. | Brazilian | 0 | |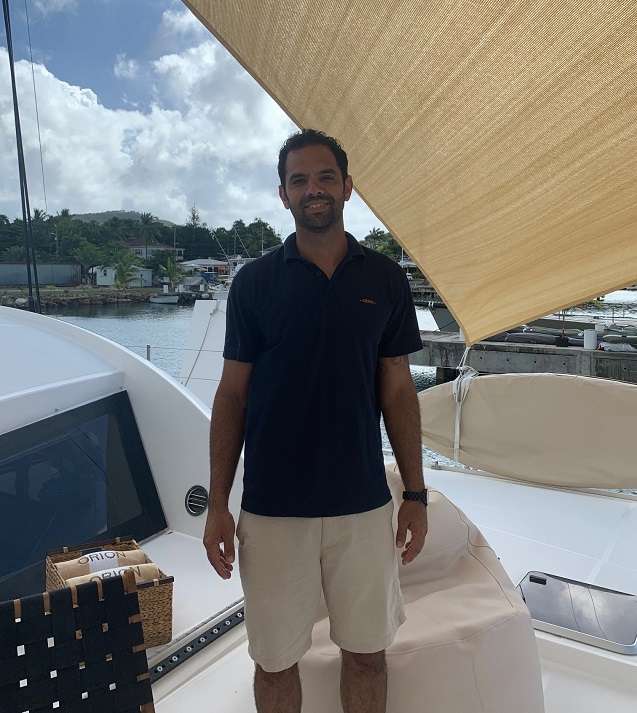 Captain
Marcelo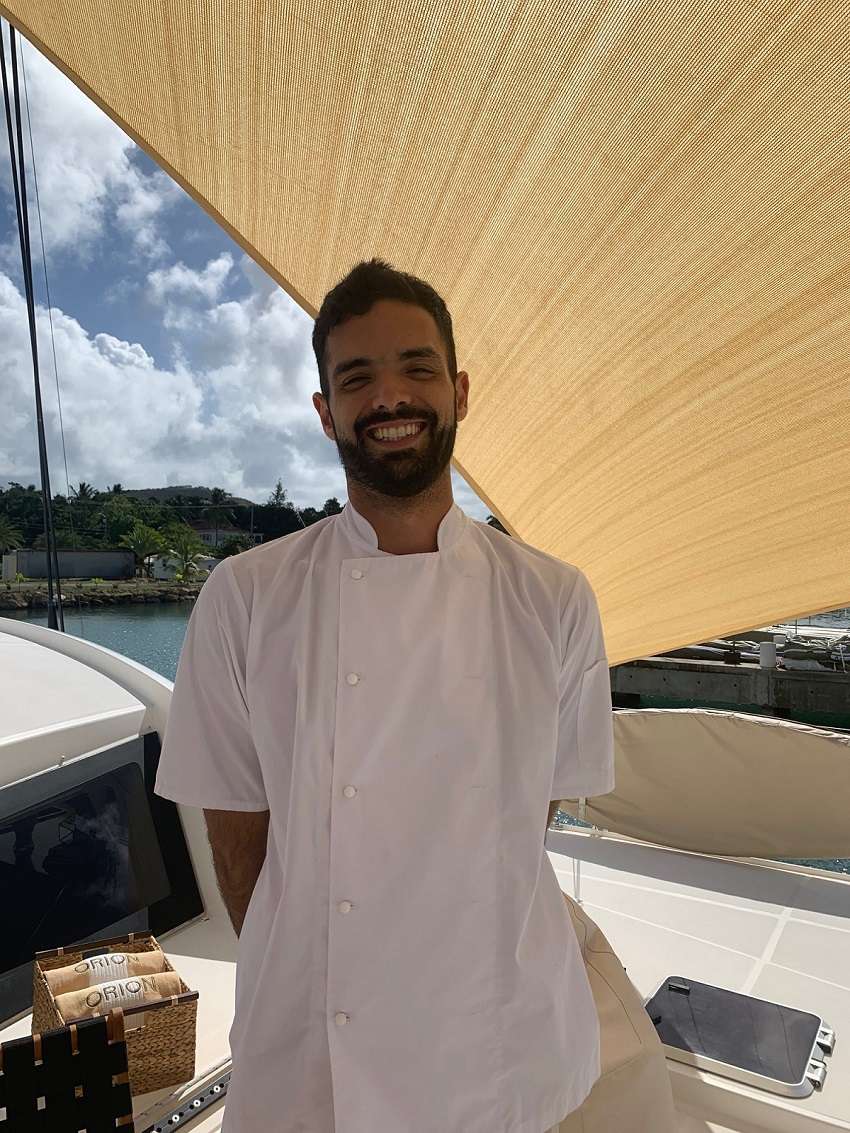 Chef
Mateus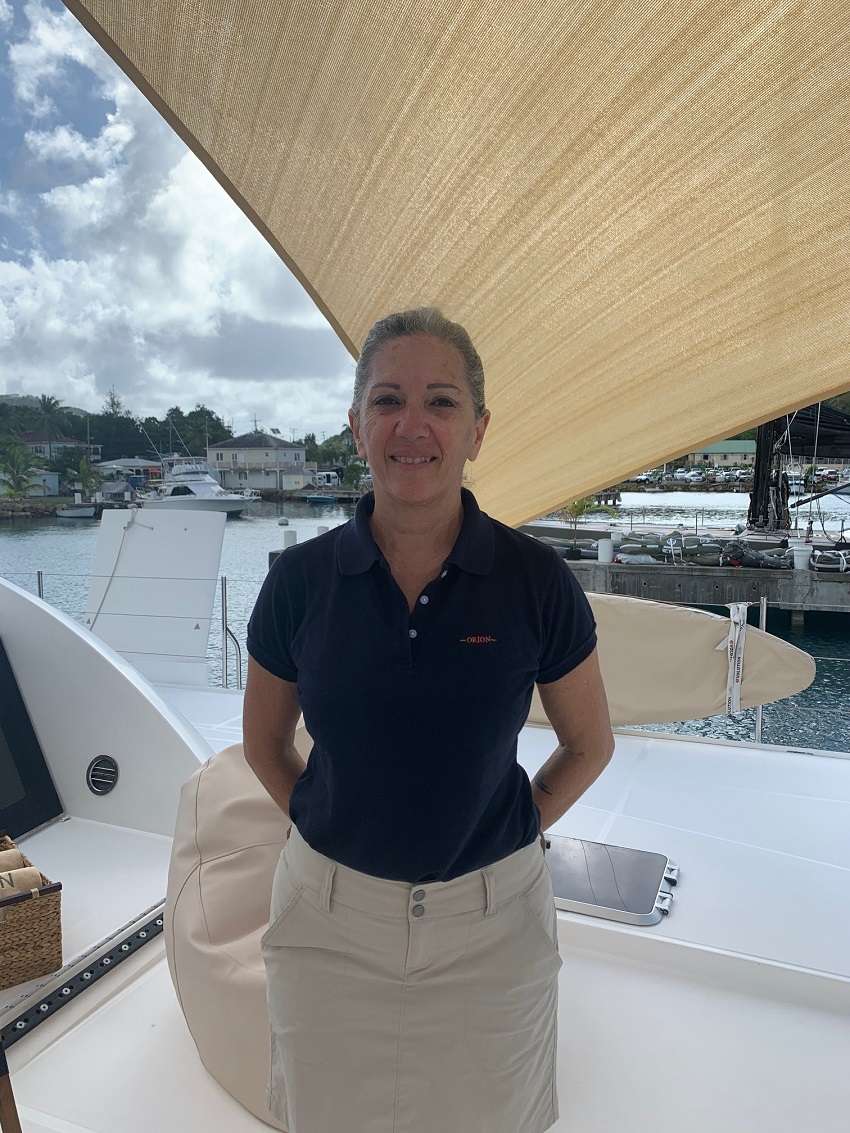 Chief Stewardess
Maura
Other Toys
One floating carpet Skiflott 16.41 ft x 9.84 ft
One towing sea biscuit Airhead G force for 3 kids maybe 4 or 2 Adults.

2 "aquasub" or "planasub" or "tow board" - a small kind if board towed by the tender very slow and people can snorkel and go very deep changing the angle of the board and then come back to surface.

2 chill Hammocks

4 cabin layout:
Master cabin – located aft starboard cabin featuring the king master stateroom with generous en suite bath and the 'family apartment.' 2 additional cabins are located in this unique suite. One cabin has a king size bed. The adjoining kid's cabin, dubbed the "Pirate's Den", has two double beds plus a smaller child's bed 2' 6 by 4' 6 – perfect for older kids or a nanny and younger children. Large bath with a vanity, toilet and shower.
The en suite VIP stateroom is located aft port and can be configured with one king bed for a couple or two single beds. Each stateroom has individual A/C controls, CD and DVD players and portholes that look out to the horizon.
Mateus Curci Ferreira Vicente, brother of Orion skipper Marcelo Vincente, 28, is a Cordon-Bleu trained chef who serves those with a taste for the best on land and at sea. He worked in private homes and Michelin-rated restaurants, aboard custom build sailboats as well as the world's most elite superyachts. His background includes service as head chef, project manager and menu planning.
I
7 year aged Acquerello Rice, Asparagus and Sweet Pea Cream, Gambero Rosso Crudo and Bisque Butter
Pan seared Lubina, Crispy Leaks, Tomatoes and Kalamata
Almond Tart, Bitter Orange Syrup and Vanilla Ice cream
II
Orata Tartare, Pears, Toasted Macadamia, Basil oil and Black truffles
Fresh Tagliatelle Frutti di Mare
Nemesis Chocolate Cake, Coconut Cream and Raspberry
III
Smoked Aubergine, Confit tomatoes and Burrata
Fresh Rigatoni, Lamb Ragu and Sultanas
White Chocolate Mousse, Uganda Vanilla and Berries
IV
Andalusian Gazpacho, Crudité and Scallop Carpaccio
Baccalà Gnocchi, Lobster Tail and Safran Emulsion
Jijona Turron Parfait and Cherries
V
Soft Polenta, Truffled Manchego, Portobello Mushroom and Artichoke Duxelles
Duck Magret, Orange Glaze and Roasted Vegetables
Crepe Suzette
VI
Tuna Belly Crudo, Tomato Couli and Buffalo Mozzarella
Rosemary Smoked Bomba Rice, Squid Ink, Grilled Seafood and Lemon oil
Raspberry Creme Brûlée
VII
Neapolitan Pizza Night
Classic Tiramisu
Note: this is just one of 7 day menu to give you an example of the food and cuisine style. 
Ed Hamilton & Co. endeavors to provide the most up-to-date yacht information, availability and rate details, however, all information published on this site is subject to change without notice. Please contact us for the most current yacht information, availability and rate details.