Guests

6

Cabins

3

Model

Cat

Year Built

2011
Additional Rate Information
Additional Rate Information
Charter Rates Per Week
| Rate Period | Terms | 2 Guests | 3 Guests | 4 Guests | 5 Guests | 6 Guests |
| --- | --- | --- | --- | --- | --- | --- |
| Summer 2022 | Inclusive | $26,000 | $27,000 | $28,000 | $29,000 | $30,000 |
| Winter 2022 to 2023 | Inclusive | $26,000 | $27,000 | $28,000 | $29,000 | $30,000 |
| Summer 2023 | Inclusive | $26,000 | $27,000 | $28,000 | $29,000 | $30,000 |
Additional Rate Information
GENERAL NOTES:
MINIMUM NIGHTS: 6, Inquire for less
For 6 night charters, divide weekly rate by 7 nights X 6 nights. For 5 nights or less, divide weekly rate by 6 nights X number of nights.

E-FOIL BY LIFT FOIL SPECIAL OPTION: E-foil week is available, $4,000
Ever dreamed of flying over the water? Feeling weightless but in control of where you're going. E-Foiling has arrived in the US Virgin Islands. This exciting new E-watersport feels like carving deep snow or riding a magic carpet. Our playground is the spectacular coastal waters of the Caribbean. Private unlimited lessons and use of the board throughout the week.

HALF-BOARD: Includes: 7 breakfasts, 4 lunches & 3 dinners. Requires 3 lunches and 4 dinners ashore at client expense.
2/$25,700 3/$26,550 4/$27,400 5/$28,250 6/$29,100
LOCAL FARE: Includes: 7 breakfasts, 5 lunches & 6 dinners. Requires 2 lunches and 1 dinner ashore at client expense.
2/$25,850 3/$26,775 4/$27,700 5/$28,625 6/$29,550
SVI CHARTERS: For one way charter STT-FAJ please add $1,700.
CHRISTMAS/NEW YEARS:
CHRISTMAS: 1-6 guests @ $35,000 with 7 night minimum, must end by 12/26
NEW YEARS: 1-6 guests @ $37,000 with 7 night minimum, may not start prior to 12/27
Location Details
Summer Area: Caribbean Virgin Islands (US)
Winter Area: Caribbean Virgin Islands (US)
Captain/Chef Justin
Justin has been on the ocean and around boats since a young age. He has over 10+ years professional maritime experience on deck and engine room as well as in the bridge with 1st Mate roles. He is a passionate seaman and an efficient worker who likes to see a job well done. He is a team player, who loves to get along with all the crew and guests with an easy going personality and always up for a laugh. Hobbies include: Surfing, Fishing, Free Diving, Spear-Fishing, Traveling & Volunteer Work
The smooth running, cleanliness and positive environment of the galley is very important to Justin. He likes to encourage a lasting positive atmosphere, without compromising on a professional outlook.
His Career has been varied; made up of sports fishing guide, working in high end restraints (kitchen & service), as well as first mate/officer roles up to 50m. He has also expanded into high end cooking working first as crew chef and then to guest quality. He would describe his style as Mediterranean with a twist although he has a love for many cultures & their different styles of cooking. He loves working with fresh fish, fresh products, and has spent years traveling and learning other cooking techniques and tastes. His dream is to continuously perfect his skills in the industry. He is happiest when in the galley!
Stewardess Carla
Carla has had quite a diverse experience – From working in large teams on 80m yachts, solo Deck/Stew on 28m, freelancing on 120m Charters, and everything in between! Even working on sailing vessels to expand her range of knowledge. She comes from a 5 star background and has a natural passion for her job, excited to provide a superb, bespoke experience for her guests and fellow crew members.
Her hobbies include: Swimming, Life-guard trained, Fishing, Snorkelling, Traveling, Diving, Reading, Drawing, Art, gaming, Hiking, Sociable, Friendly and happiest on the water.
| | | | | |
| --- | --- | --- | --- | --- |
| Captain | Justin Charles Gill | USA | 1980 | English |
| Crew | Carla Michalec | Zimbabwean | | |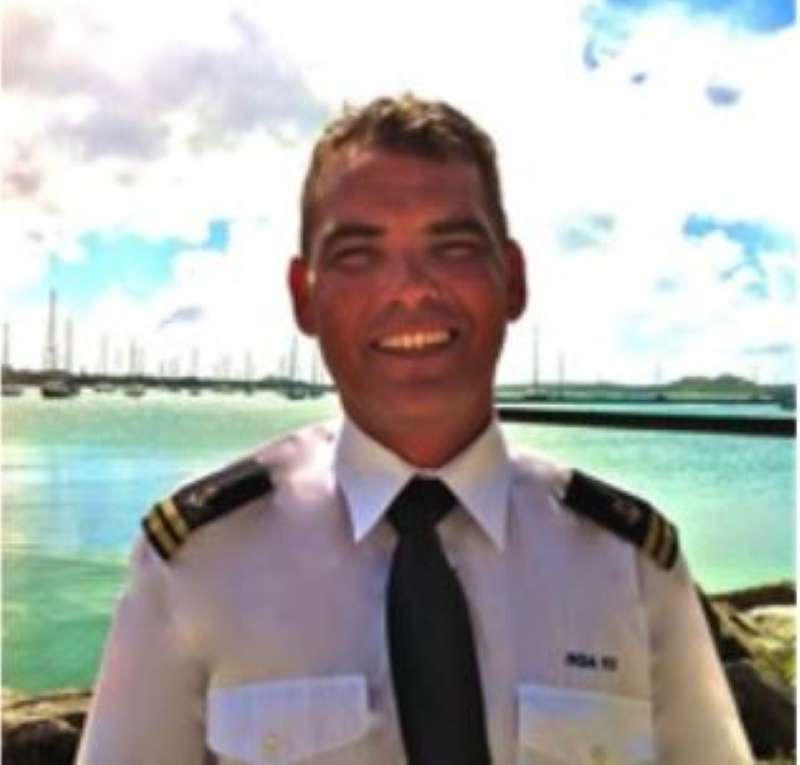 Captain
Justin Charles Gill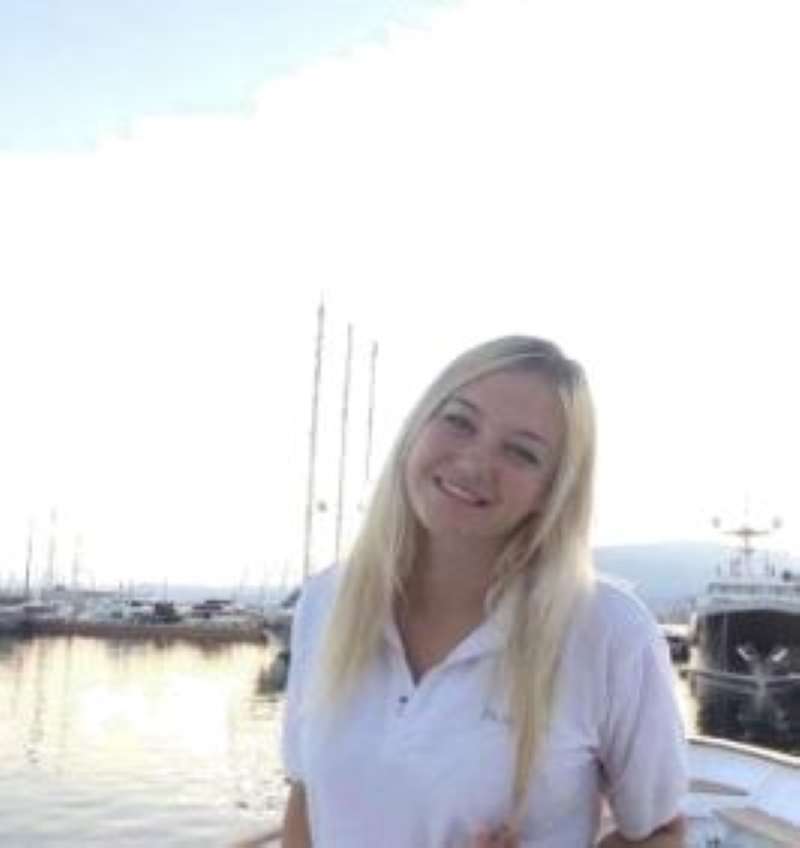 Stew
Carla Michalec
Ammenities
Water Maker
52.8 gallons/H
General
Min Child Age
Water safe - bring life vest
Leisure
Dive Info
Optional Dive Master - Inquire
Other Specs
Turn Around
48, inquire for 24hr
Green Other
Organic and local produce when available. Bio-friendly cleaning products.
Scuba Onboard
Yacht offers Rendezvous Diving only
Other Entertain
FITNESS
-1 total gym
-1 standard and recumbent stationary bike
-25, 20, 15, 10, and 5lbs dumb bell hand weights
-5 and 10 lbs kettle weights

OTHER AMENITIES
-8 wireless JBL 5s and extreme 3 blue tooth speakers
-Lumen underwater lights - in clear water beam down 40 feet and 30-40 ft on each side of the catamaran giving the "Fish bowl" illumination
-8 new bean bags
-72 inch movie screen and projector on aft stern for movies and music
-Outdoor shower on starboard sugar scoop to rinse off

UPGRADES
-New table stands that allow salon table to lower and turn into huge bed / relation area
-New AC Chiller
-New 180 HP Turbo diesel starboard engine.
-No diesel noise , vibration or SMELL!!!!
-New Isotherm ice maker (70 lbs a day) + a second ice maker
-10 new lithium batteries 1000 Ah at 24 volts or 2000 Ah at 12 volts with two 8000 watt victron inverters for a total of 16,000 watts of inversion fed by a new $50,000 stainless steel solar arch with eight 550 watt LG solar panels …. Makes Tres Suenōs an off grid boat .. we do not have to run generators to power catamaran or it's four AC units !!!

Communicate
One state of the art " Elon Musk" " Starlink Satelite dish/ Dome with 100 plus download and 10-15 uploads
Unprecedented speeds !!!!

Other Toys
FISHING GEAR
-4r tld 50 reels on 50-80lbs Rod's
-2 electric deep drop Krystal electric reels on stout Rod's
-4 Penn heavy duty 7500 and 8500 spinning rods
-Stop the press … We also created a live bait well in the port side sugar scoop for live bait fishing

WATER TOYS
-3 E-Foil Hydrofoil electric surfboards
-4 underwater scooters
-12 pair of assorted fins , masks for adults and kids
-Multiple floaters & Noodles
-2 tow- pull tubes (2-3 person tubes )
-2 pair of water ski and slalom skis
-2 paddle boards
-1 two - person West Marine kayak
-1 third lung /Brownie electric/battery operated snuba set up with three 65 foot air hoses
-1 old style surfboard


OTHER
-10 cfm top of the line new Bauer air compressor with 35 ft long high pressure hose with four piece manifold for four individual air whips (can fill four 100 c.u air tanks in 40 minutes)
-15 ft AB tender with 70 HP 4 stroke Yamaha outboard motor to pull toys and and shuttle guests

Tres Suenos can accommodate 6 sleeping guests in 1 Master cabin w/king size beds & 2 cabins w/queen size beds.
All of them have Private (Electric) Heads & Showers, plugs (220/210), hair dryer and private AC control.
Possibility to have 2 additional teenagers sleeping in the big sofa. On request.
Saloon, lounge bar & spacious cockpit
Separate crew quarters with upper & lower berths
BREAKFAST
Daily spread of:
Coffee, tea, juices, mimosas, bloody mary's
yogurt & granola, fresh fruits, pastries, assorted baked goods
Chef's Choice:
Omelettes your way with maple smoked sausage and hickory bacon
Lox on toasted bagels with cream cheese & capers
French toast with local fruit
Eggs Benedict, sliced tomato & avocado
Southern style biscuits & gravy with eggs
Made to order breakfast sandwich with roasted potatoes
Breakfast burritos with freshly made local salsa
LUNCH
Chef's choice – hook & cook catch of the day, blackened, grilled or fried:
Fish tacos with local fruit chutney,  pepper slaw
Ceviche, citrus chicken skewers & Mexican street corn
Asian fish or chicken lettuce wraps with quinoa salad
French onion soup with classic Po Boy sandwich
Local lobster rolls with watermelon-mint salad topped with balsamic vinaigrette
Pistachio-sesame seared Ahi on mixed organic greens
Beef sliders to order with pesto pasta salad
Local sailfish empanadas with sweet potato hummus
 HORS D'OEUVRES
Cocktails, wines & spirits
Bloody Mary Bar
Skewered BLTs
Charcuterie board – assorted meats, cheeses, spreads & crackers
Lump crab cakes with tangy citrus aioli
Ceviche, guacamole & mango salsa
Caprese
Homemade mini-margarita pizza
Smoked ham, cream cheese & scallion stuffed croissants
Fried chicken-cornbread-mashed potato skewer
DINNER
 Fresh catch or pork loin paired with sauteed spinach mushrooms & onions
Sirloin steak with cracked candied bacon brussel sprouts
Goat cheese & spinach with walnut & beet salad
Prawns served over angel hair in a white wine sun-dried tomato garlic sauce
Pan fried scallops with roasted vegetable medley
Low country boil with corn, andouille sausage, shrimp, crab, red potatoes & onion
Wild caught salmon in a lemon butter dill sauce with cauliflower parsley mash & rice pilaf
DESSERT
Coconut cream truffles
Local fruit cobbler topped with vanilla ice cream & mint
Dulce de leche cheesecake
Sweet potato pie
Ed Hamilton & Co. endeavors to provide the most up-to-date yacht information, availability and rate details, however, all information published on this site is subject to change without notice. Please contact us for the most current yacht information, availability and rate details.